IMPORTANT NOTICE - COVID-19
by Walter Genefaas, Organisation President
Kia ora koutou katoa,
I hope you are all well and watching out for each-other through these somewhat uncertain times. This message is on behalf of the management committee summarising our initial response to the evolving situation. As always, the Ministry of Health are the experts in this space so please follow their advice and updates for the most accurate information.
https://www.health.govt.nz/our-work/diseases-and-conditions/covid-19-novel-coronavirus/covid-19-novel-coronavirus-health-advice-general-public
Hamilton Citizens Band Hall - 245 Clyde Street, Hamilton.
Due to the imminent risk of the Covid-19 Virus and its recent spread into the Waikato region, the management committee has decided to close our facility to all but essential services. The closure is in place for a minimum period of two weeks and is subject to review. We will continue to monitor the situation, and when risks associated with small to medium sized gatherings become more apparent, we will reassess.
We are hopeful that we can develop strategies to minimize risk of transmission and can all return to using the facility in the future, but in the meantime, please refrain from using the band-room until further notice.
For the same reason, please be aware of the following cancellations:
Band rehearsals for ALL GROUPS who use our bandroom - Cancelled until further notice
WAIBOP Regional Contest - Tauranga Boys High School, 2/3 May 2020 - Cancelled
Anything Goes concert - Gallagher Academy of Performing Arts, 28 March 2020 - Cancelled
Hamilton Citizens Band Inc. AGM - Postponed until further notice
Brass Factory End of Term Concert - Clyde St Bandroom - 7 April 2020 - Postponed
Essentially any events involving public gathering and/or close proximity/contact are cancelled or postponed for the foreseeable future.We have yet to receive confirmation surrounding the National Contest in Christchurch in July, and will update as soon as we are notified. The Brass Band Association of NZ are waiting on guidance from central government on this matter.As always the health and well-being of our members is a primary focus and we will do our best to keep you updated as the situation progresses. Please don't hesitate to contact myself or any other member of the management committee (listed below) should you have any queries or concerns.Ngā mihi nui---Walter Genefaas---
HAMILTON CITIZENS BAND INC. MANAGEMENT COMMITTEE 19/20
President - Walter GenefaasSecretary - Emma RedpathTreasurer - Russel WilkinsonNon playing rep - Marilyn EdgecombeNon playing rep - Lisa KayMusical Director - Mason ElliotConductor - HAB - TeReo HughesPlaying Member HCB - Richard EdgecombePlaying Member HCB - Ross McAdamPlaying Member HAB - Blake FinniganParent Representative BF - Sonya Pearce
by Emma Cardwell

With New Zealand's National Brass Band Contest for 2019 fast approaching, a tremendous amount of work by a number of people within our organisation has been going on behind the scenes.

As we are hosting the contest in Hamilton from July 10th to 14th, playing and non-playing members have been considerably busy. This includes everything from home practice, to multiple evening and weekend rehearsals, sectionals, meetings, planning, organising, you name it… We've been busy!

So, to take a step back and relax for an hour or two, the senior band decided to arrange a night out. 34 of us attended a night at our very own 'Bowl & Social' at Sky City in Hamilton. This took place on Saturday 23rd June, following a full day's rehearsal for senior band members.

It was an absolute BALL! :D

But seriously… our members, young, old and somewhere in-between, got together and had a blast! We indulged in drinks, pizza, chips, laughs, cheers, gutter balls, strikes and spares. It was a great team building exercise and also a fun way to relax and socialise with friends outside of the band room.

Bring on contest 2019!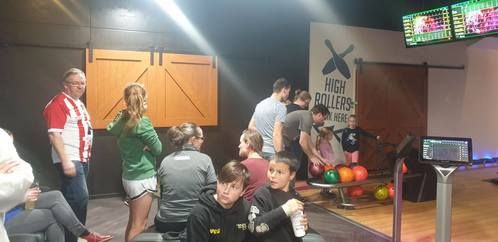 We are thrilled to reveal our BRAND NEW LOGO 😎
What is it? Let us explain!

🌊 Water and the Waka - The main symbol is water in the shape of a Waka giving reference to the Waikato river which runs through our city. The Waikato river is a tupuna (ancestor), a taonga (treasure), and the mauri (life force) of our region.

🎺 The Three Dashes are an abstract design of brass instrument valves and also represent the three groups in our organisation, Hamilton City Brass, Hamilton Auxiliary Brass and Hamilton Brass Factory.

🎨 Our new colour scheme again references water. Hamilton City Brass dons a new uniform that is dark navy blue and silver so our colour gradient runs from a dark blue, to a medium blue representing Hamilton Auxiliary Brass, to a light blue representing Hamilton Brass Factory and then to silver which ties us all together.
by Emma Cardwell

Here at Hamilton Brass, we are forever trying to come up with unique and exciting ways to fundraise for our organisation. Fundraising is a huge focus for us all year round as it is key to keeping on top of our running costs , as well as funding applications and of course, what we do best, our concerts!
For our latest fundraiser, we tried something a little different; a car rally/scavenger hunt What is this you ask? Great question...

Willing participants made up teams of as many people that could fit in one vehicle. On the day, each team paid an entry fee and eagerly awaited our instructions covering things like vehicle checks to make sure all participants were road-worthy (which we all definitely were!).
Once all checks were complete and all partakers were ready to roll, Band Manager Ross McAdam, and main organiser of this event, along with his lovely wife Lisette, handed out a list to each team. On these lists were twenty-five tasks we had to accomplish within the two and a half hours given.
Now, these were no ordinary instructions. Of course, I'm not going to give too much away, because we are likely to hold another one of these events again! But the list included a variety of locations, buildings, sculptures etc which we had to find in Hamilton. Fifteen of these were written instructions and ten were snippets of photos, where we had to guess the location.
We then had to drive to as many locations as possible within the timeframe and get a photo with ALL of our team members at these places. Some of these were a challenge! We really had to think out of the box, which made it even more exciting. While out and about we sent our photos in to Ross and Lisette, so they could tally up points along the way.
The end results were close! It's a touchy subject for me personally, because my team almost won… having completed 23/25 tasks correctly including all the bonus points. At the end my team were tied with another team called 5 Bars Rest (made up of the Barr family). Ross checked all vehicles mileage before the rally and again at the end which is how we lost :(
Hindsight is a beautiful thing, so at the next Car Rally I will definitely have a few tricks up my sleeve to secure the win haha. A big congratulations to the Barr family though, who with three kids in tow, took home the gold! And by gold, I really just mean Moro Gold chocolate, as this was a fundraiser after all.

All those who took part had a blast! It was something different and fun whilst raising money for our organisation at the same time. Have a look at our photos and see if you can work out some of the tasks we had to complete!
After being the reigning champion B grade brass band of New Zealand in 2016 and 2017, Hamilton City Brass were promoted to the premier A grade and made its first appearance in the section at the New Zealand Brass Band Championship earlier in July this year. This national contest was held in sunny Blenheim with 30 bands from around the country in attendance.

The contest delivered great results for Hamilton City Brass, but the bands top result came from Memorie Brooky, Te Reo Hughes, Lisa Marshall and Emma Cardwell. Affectionately called 'The Spice Girls', the talented ladies won the Open Ensemble A national title against some very stiff competition. 'The Spice Girls' were particularly proud of their win against several groups from highly renowned A grade band Woolston Brass.
Tenor Horn player Te Reo Hughes jokes "If you look at the trophy, it's engraved with Woolston Brass all over it. It will be very nice to have Hamilton City Brass on there just to mix things up a bit."

Musical Director Glenn Richards is very pleased with the band performances and says "The band has worked extremely hard over the past 3 years and completely deserved it's elevation to the A Grade. It's fair to say the standard is much higher than the B grade but the team performed extremely well, delivering 3 solid performances during the contest."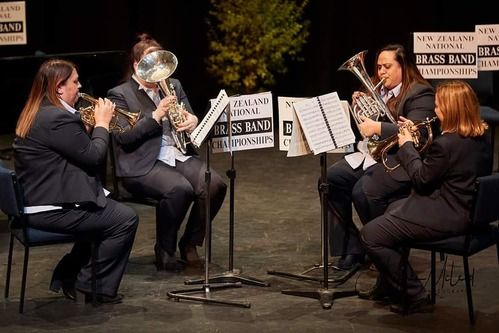 "The great thing is, we now know where we stand in the A Grade world and I know we are capable of much more in the years ahead."
"This is a motivated and united team of exceptional musicians and I am proud to be their Musical Director."

The Hamilton Citizens Band Incorporation is made up of Hamilton City Brass, Hamilton Auxiliary Brass and the Hamilton Brass Factory. Each of these bands are currently in preparation for the Waikato Bay of Plenty regional contest to be held at Southwell School on 29-30 September. You can see bands from around the region including our cities own brass bands compete in solo, ensemble and band events over these two days. This will be a good platform to promote the 2019 New Zealand Brass Band Championship which will also be held in Hamilton bringing thousands of 'brass bandies' to the streets and stages of our city.
by Emma Cardwell

We are a busy bunch of muso's here at Hamilton Brass. If we aren't out and about in the community, we're in our band room, fine-tuning for the next gig. We also do a great deal of fundraising to keep our groups going strong and continue to do what we do best. The duration of our latest fundraiser was 24 hours...

That's right. 24 hours of non-stop music, in our very own band room. This event we call a 'Brass Razoo'. If you're wondering what the word 'Razoo' means (similarly to most of our players when the idea was first sprung), it comes from the saying "I haven't got a brass razoo", meaning the speaker is out of money. Yep, we gotta keep those funds coming in!

In order to make these funds happen, we held a 24- hour music marathon. To be a success, the music HAD to run continuously from 7pm Friday until 7pm Saturday, no exceptions! There were no requirements for anyone to stay there for the entire 24 hours, but we did have a couple of keen young'ens who tried to conquer this challenge, and a couple of old'ens too! I'm telling you, some very interesting musical performances can occur in the early hours of the morning, when there has been a lack of sleep...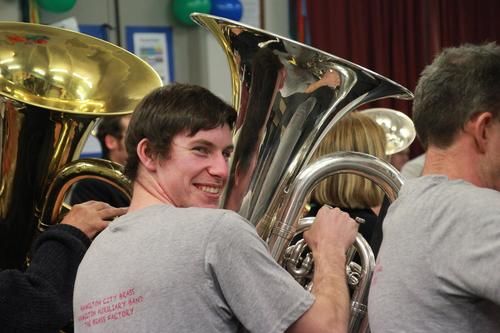 A tremendous amount of organising went in to make this event happen. We saw all sorts of instruments and talents enter our band room, with everything from beginners to pro's and youngies to oldies. We obviously used the incredibly skilled brass and percussion musicians we have, but also had the pleasure of singers, guitarists, drummers, pianists, violinists, flutists, you name it. We even had a didgeridoo or two!

This event was a huge success. We uncovered numerous hidden talents within our own groups and were able to meet heaps of other amazing local musicians. We raised money by having sponsors, holding silent auctions and also raffles throughout the event. By the way, a HUGE THANK YOU to all the individuals, groups and businesses that donated either money or prizes to this event. Without their support it simply would not be possible!

To cut a long story short, we exceeded our target of funds raised for our organisation but most importantly, had an absolute blast doing it!
It's official peeps. We are in the A grade! After winning the B grade championship back to back in 2016 and 2017, the Brass Band Association of New Zealand thought it was about time we turned things up a notch and invited us into the elite A grade. Our time in the B grade has been a cinderella story, so we are happy to move into a new era with challenging and exciting times ahead.

The timing seems perfect as we prepare to host the 2019 NZ Brass Band Championship in our own backyard.

Here's what Musical Director Glenn Richards has to say about the bands promotion.

I am tremendously proud of the band and the way they have maintained such a consistent high level of musicianship over the past three years. We have every seat in the band covered week in week out, which means we have minimal disruption at contest time without having to bring in players from outside the organisation.
Although competitions are important to us, we are completely focused on making Hamilton City Brass a vibrant and fun environment that people are attracted to all year round. This also includes encouragement for our Auxiliary Band and our Brass Factory (learners band).

It is also vitally important that we continue to support our city through civic engagements and performing high class concerts with relevant repertoire. With the move to A grade, none of that will change, but the challenge is for every member, myself included, to attain an even higher level of musicianship, so when we do attend regional or national contests, we represent our city and the people that support us to the very best of our ability. With a D grade band and a development band under our wing, helping feed Hamilton City Brass, the future looks promising.
Silver Award for Auxiliary Band
On 19 June 2017, Hamilton Auxiliary Brass attended the Matamata Festival of Bands and were awarded silver! This was their first competition event with new Musical Director Te Reo Hughes. Te Reo says "The festival is such a great platform for band ensembles to perform purely for the entertainment factor and was the perfect way to kick off my relationship with the band". Their programme consisted of a variety of music such as, The World is Not Enough from 1999 James Bond film, Jeanie with the Light Brown Hair featuring euphonium soloist Geoff Ledger, Barneys Tune featuring trombonist Robert Lummus and whistling from members of the band, Robbie Williams Big Band version of Things and a big band style arrangement of Favourite Things from The Sound of Music.

This is an annual event that the Auxiliary band looks forward to every year. The plan is to do one better next year and grab that elusive gold.
NZ Brass Championship comes to the Tron in 2019
The bidding war was on to host the national contest. Our modest presentation stood up against other more 'flashy' bidders, and the general consensus was that Hamilton would be the place to be in 2019.

Hosting this event is a privilege for our band and will benefit the local hospitality industry as brass bands from all around the country - hundreds of bandsman/woman - come together and battle it out for the coveted national titles.
Youth brass learner group launched and thriving
We are very proud to announce the launch of our new learners programme, aptly named - Brass Factory!

Hamilton City Brass cornetist Tracey Seifert has worked very hard to start a programme for young learners between the ages 9 to 11. The aim of of this programme is to get youth learning a brass instrument in a fun environment amongst peers with the hope to increase membership in the Auxiliary and Senior bands.

The learners began private tuition with Tracey in early 2016 and later that year, all players were brought together to create what is now known as the Brass Factory. The programme has kicked off again this year, and the majority of the learners have returned. The future is looking very bright!
We are very proud to announce the launch of our new learners programme, aptly named - Brass Factory!
Hamilton City Brass cornetist Tracey Seifert has worked very hard to start a programme for young learners between the ages 9 to 11. The aim of of this programme is to get youth learning a brass instrument in a fun environment amongst peers with the hope to increase membership in the Auxiliary and Senior bands.

The learners began private tuition with Tracey in early 2016 and later that year, all players were brought together to create what is now known as the Brass Factory. The programme has kicked off again this year, and the majority of the learners have returned. The future is looking very bright!